AFAS Software kiest voor koppeling Profit aan Act-On marketing automation via Marketing Guys en XCESS
Softwareleverancier AFAS uit Leusden maakt al enkele jaren gebruik van de marketing automation software van Act-On, dit wordt onder andere ingezet op het contentplatform AFAS Inspireert Beter Ondernemen. Vanuit Marketing Guys ondersteunen wij het marketingteam van AFAS in de strategie en dagelijkse inzet van marketing automation. Omdat de buyer journey van klanten vaak online start en wordt vastgelegd binnen marketing automation maar daarna binnen de CRM wordt opgenomen als de leadscore behaald is, is een koppeling van het Profit CRM en Act-On wenselijk. AFAS heeft daarom nu zelf ook gekozen voor de oplossing die Marketing Guys biedt met partner XCESS middels de AOconnect.
AFAS heeft van haar customer journey een goede grafische weergave waarin onder andere de rol van marketing automation wordt toegelicht (bron: afas.nl):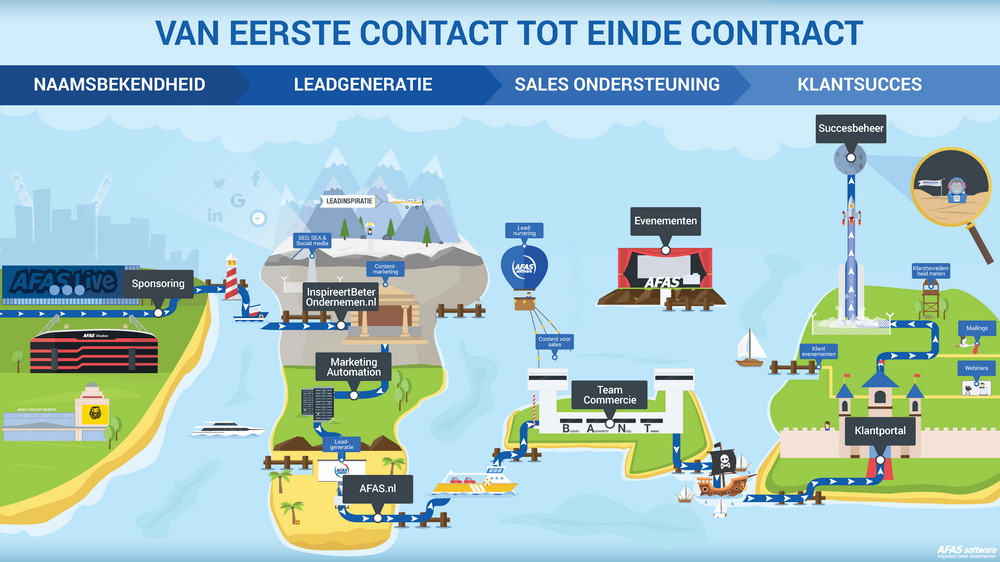 Koppeling AFAS Profit met Act-On Marketing Automation
Door je CRM te koppelen aan marketing automation krijg je een goed inzicht in je hele marketing cycle. Door een koppeling krijg je een integraal beeld van de interesses van je contactpersonen en prospects. In de marketing automation bouw je aan de opbouw van profielen op basis van online gedrag. Bijvoorbeeld de bezochte onderdelen op je website, klikgedrag in e-mails en ingevulde webformulieren. Op basis van het gedrag van je prospects bouw je tevens leadscores op in Act-On die je vervolgens in Profit synchroniseert. Je bepaalt vooraf een minimale leadscore die behaald moet worden alvorens deze met AFAS Profit wordt gesynchroniseerd.
Samenwerking Marketing Guys en XCESS
De koppeling tussen Profit en Act-On vereist een aantal expertises. Enerzijds kennis van Act-On en marketing automation, anderzijds van AFAS Profit en de mogelijkheden om daar te koppelen. In dit proces zijn wij van Marketing Guys opgetrokken met de experts van XCESS Expertisecenter. Als grootste partner van Act-On in Europa heeft Marketing Guys alle benodigde kennis in huis om dit samen met de specialistische AFAS kennis bij XCESS tot een succes te maken. De koppeling is exclusief verkrijgbaar via Marketing Guys.
Meer weten over marketing  automation en de koppeling met Profit?
Gebruik je AFAS Profit en wil je met marketing automation aan de slag of gebruik je Act-On en ben je op zoek naar nieuwe business software en overweeg je Profit? Neem dan vrijblijvend contact met ons op voor een gratis demo. Die kun je online aanvragen of ons even bellen op 033-7370250.