De positieve kant van de schandalen rondom Facebook
Facebook is de afgelopen maanden meedere keren in het nieuws geweest. Eerst was er de zaak rondom Cambridge Analytica gevolgd door de berichten rondom 'fakenews', daarna waren er diverse datalekken bij Facebook en ook de discussie rondom de privacy van Whatsapp (ook van Facebook) deed veel stof opwaaien. Die aandacht heeft ook positieve kanten. Daarover meer in deze blog.
Social media gebruik onverminderd en jongeren zijn zich bewust over het effect
Een onderzoek van het PEW Research Center van afgelopen maand toont aan dat (met name jongeren in dit geval) hun social media gebruik onverminderd doorzetten. Er zijn echter wel een aantal verschuivingen te zien, zo wordt Facebook minder populair:
Bijna 95% van de onderzochten gaf aan dat ze beschikken over een smartphone en maar liefst 45% geeft aan dat ze eigenlijk nagenoeg altijd online zijn. Het effect hiervan wordt echter erg verschillend ervaren door de verschillende gebruikers: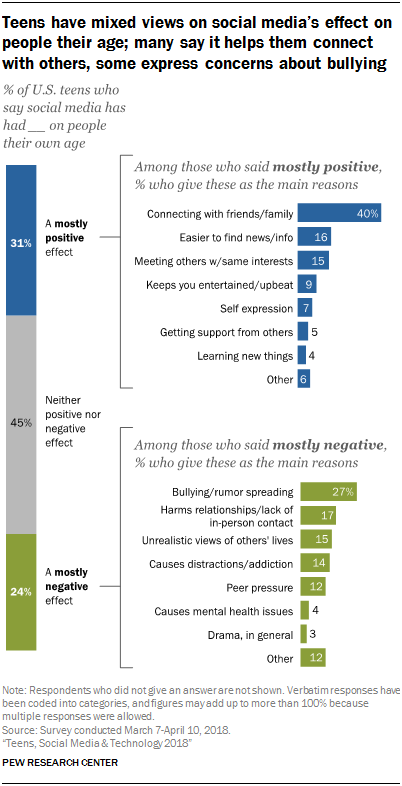 Zorgen over privacy en we denken beter na wat we posten
Een ander onderzoek, gedaan door The Atlantic onder meer dan 2000 respondenten, geeft aan dat mensen zich zorgen maken rondom de privacy op social media:
Bijna 4 op de 5 mensen denkt dus na over de veiligheid van hun privacy op social media en dat is een zeer positieve ontwikkeling, vinden wij bij Marketing Guys. Die bezorgdheid zorgt ervoor dat we gaan nadenken over wat we wel en niet posten op de verschillende netwerken. Maar liefst 82% van de mensen censureert zelf actief berichten op social:

Social media wordt minder persoonlijk
Een andere ontwikkeling die de schandalen van de laatste tijd tot gevolg hebben, is een verandering in het soort posts dat we doen. Omdat we ons zorgen maken over de privacy en ons bewust zijn van de gevolgen van het posten van bepaalde berichten, zijn de posts minder persoonlijk. Bijna 60% van de onderzochten gaf aan 'minder of veel minder' persoonlijke berichten te posten: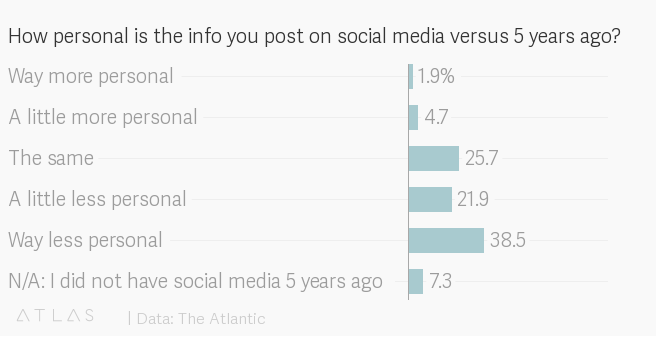 Wat houdt dit in voor je social media strategie?
Wat ons betreft zijn bovenstaande ontwikkelingen erg positief. Het is alleen maar toe te juichen dat mensen zelf gaan nadenken en zich bewust zijn van de gevolgen van hun gedrag op social media. De bovenstaande cijfers uit de verschillende onderzoeken zijn wel reden om goed na te denken over je social strategie. Denk bijvoorbeeld aan:
Transparantie: omdat het vertrouwen in de platforms daalt, zul je middels transparantie moeten aantonen dat je goed met de data van jouw gebruikers, likers en volgers omgaat. Dit kun je actief communiceren middels bijvoorbeeld je privacy statement;
Denk goed na over welk social kanaal je gebruikt: wij krijgen soms de vraag of een 'Facebook actie' nog wel een goed instrument is. Ons advies: definieer eerst heel duidelijk je doel en doelgroep en bepaal welke kanalen daarbij aansluiten. In bijna alle gevallen is een mix van kanalen de beste oplossing, maar ook daarin zal vaak de nadruk liggen op het kanaal waarop de meeste mensen uit jouw doelgroep zich bevinden;
Nog steeds social ads gebruiken? Als het vertrouwen in een kanaal afneemt, zul je als adverteerder nog beter je best moeten doen om een betrouwbare indruk te maken om tot een conversie over te gaan. Zorg dus voor een perfecte doelgroepanalyse en een aansluitend aanbod. Hieronder 2 voorbeelden van Instagram advertenties. De ene is goed gericht (iPhone case wordt getoond aan de eigenaar van een iPhone met het juiste type in de ad) en de andere absoluut niet (vacature voor een kok wordt aan ons getoond terwijl we helemaal niets van de eigenschappen van een kok hebben):
Social media marketing is een vak
Om successen te boeken op social media als marketeer heb je kennis van zaken nodig. Zeker als het gaat om adverteren op social of het opzetten van een campagne. Wij kunnen je helpen met de juiste kennis en je helpen de juiste strategie op te zetten en uit te voeren. Als je daarover meer wilt weten kun je ons altijd even bellen (033-7370250) of mailen voor een vrijblijvende kennismaking.